About Top Hat Chimney Sweeps
SERVING TEXAN
HOMEs & Businesses

SINCE 1988.
Top Hat Chimney Sweeps, LLC and Dryer Vent Cleaning Services is a full-time, full-service family business, with 3 offices located in Taylor, Manor, and Austin TX, and serving Travis and Williamson Counties since 1988. Second-generation owners Theresa and Royal Pore take pride in continuing the tradition of serving the Central Texas area with a strong work ethic, complemented by honesty and professionalism. Our promise is to provide Peace of Mind for our customers that their homes and businesses are safe from the hazards of fire or damage associated with dangerously dirty or failing chimneys and clothes dryer vents.
And now we have added air duct cleaning to our list of professional home services for residential and commercial customers.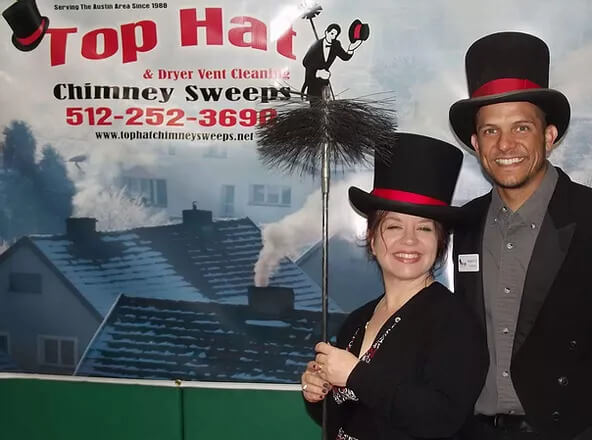 FAMILY OWNED AND OPERATED
BY THERESA AND ROYAL PORE
"It is important that each step of the process is inspected properly, and our team does just that."
President & Certified Chimney Professional
Our Team is backed by Strong Hands and Sturdy Hearts
Whether your concerns are for your fireplace/chimney cleaning, your dryer venting system, or your air ducts, we're here to answer your questions.
Contact Us today to learn how our team can provide you Peace of Mind One Sweep at a Time!
Meet Royal and Theresa, the owner power-duo at Top Hat Chimney Sweeps.
Royal takes our client's needs seriously when it comes to protection against house fires and shoddy home service jobs. Theresa's strategic insights serve as the guiding voice of the company to keep us all on the right track.
We place emphasis on continual improvement and ensure that our Chimney Professionals are certified.  Why does that matter?
Professional designation requires constant learning to ensure that we are up to date with current codes, regulations and familiar with all types of chimney systems.
That's what sets our team apart – the professional and personal care to do the job right.
Get in Touch with Our Team
We pride ourselves on offering best in class service performing inspections, cleaning, and maintenance for your home's vent systems. We service chimneys, air vents, and dryer vents – so contact our team today to get started!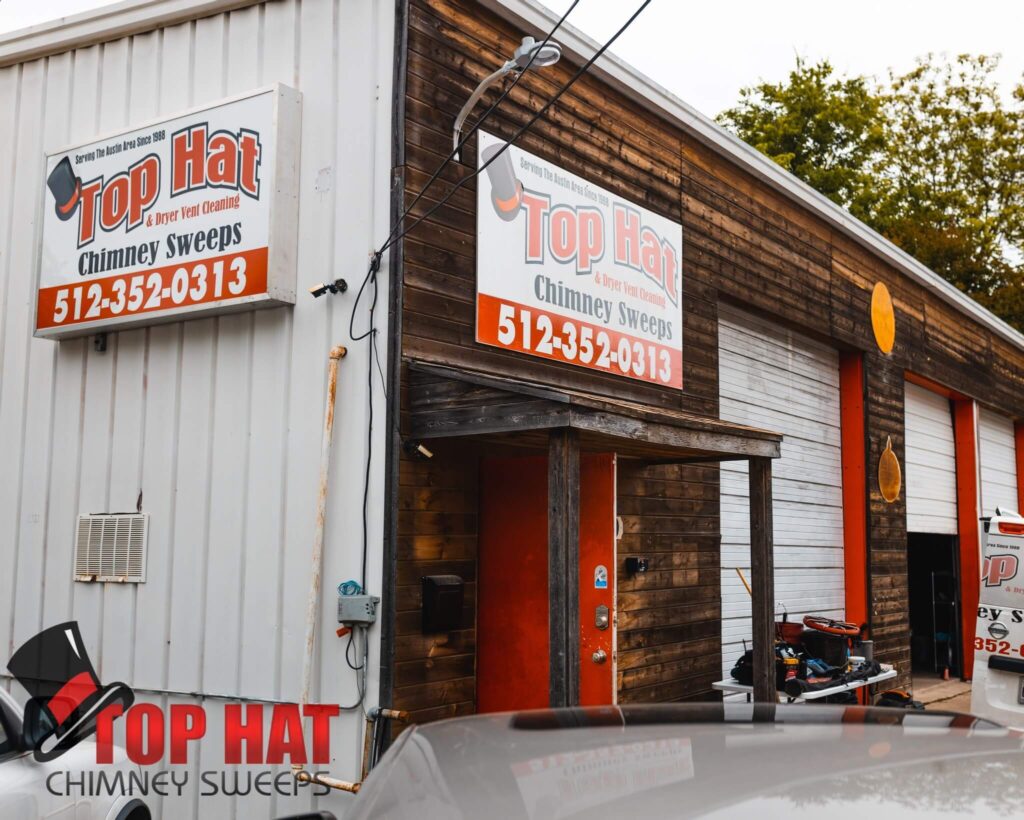 109 E. 11th St.
Taylor, TX 76574
Taylor is a city in Williamson County, Texas. While the small town is known for its world-class barbecue, it offers much more than a perfect three meat combo. Taylor is a great place to live work and raise a family – as well as conveniently located near the Austin metroplex.
12407 Hwy. 290 E. Ste. 101
Manor, TX 78653
Manor is a city in Travis County located 12 miles northeast of Austin and is part of the Austin-Round Rock metropolitan area. Manor used to be mostly farmland, but it has become increasingly popular with young families and professionals.